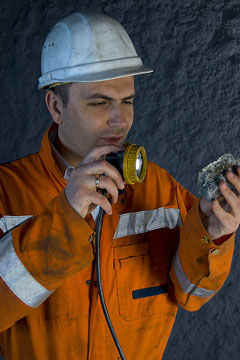 Geological engineers, sometimes referred to as mining engineers, find and prepare minerals, metals, and coal to be used in manufacturing industries. They may design open and underground mines and supervise mine construction, devise means of transporting minerals to manufacturing plants, and evaluate the safety and environmental soundness of the mines. Some geological engineers develop operations to separate minerals from the dirt or rock, while others design new mining equipment or work with geologists to locate and appraise deposits of ore. Geological engineers often specialize in the mining of one particular mineral or metal, such as coal or gold.

A bachelor's degree is required for all geological engineers. A strong background in mathematics and science is also important. Any geological engineers working with the public must pass a licensing exam, per requirements in all 50 states and the District of Columbia. The two part licensing exam consists of the Fundamentals of Engineering (FE), which can be taken upon graduation from an accredited engineering program, and the Principles of Practice and Engineering, which can only be completed after four years of geological engineering work.

Geological engineers should also be inquisitive, analytical, detail oriented, able to communicate effectively and work well as part of a team. Experienced geological engineers may become engineering managers or supervise a team of engineers and technicians.

Geological engineers are expected to see faster than average employment growth, although the best opportunities may necessitate frequent travel or living overseas for extended periods. For more information about careers for geological engineers, visit the Society for Mining, Metallurgy, and Exploration website.
Related Directory Pages
---
About Geological Engineers